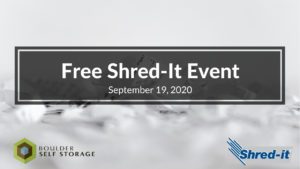 As a thank you to our customers and communities, we are pleased to provide a FREE 3-hour Shred-It event at our store.
Saturday, September 19
11am – 2pm
Boulder Self Storage
6439 Arapahoe Road
Boulder, CO 80303
Please Read Below for Important Safety Precautions:
Face masks are required. You must be wearing on to participate.
Please hand the items directly to the associate when it is your turn.
If you are physically unable to unload items, we will assist you under these conditions:
– Items must be in your trunk.
– You must wear a mask and remain in your vehicle during the unloading process.
There is a limit of 5 boxes per person. We will gladly shred more during the last hour of the event if there is room in the truck.
Remove any binder clips. Paper clips, staples, and window envelopes are safe to be shredded.

We are kindly asking for a monetary donation or 12-pack of new pencils to benefit the Kids in Need Foundation, a non-profit that provides essential school supplies to local children in need.
Leave a Reply to "Free Shred-It Event"